The more I interact with baby-boomers,¹ the more I learn of their frustration with GenY (my generation). Now, there is no shortage of reasons why the previous generation throws their hands up in frustration at GenY, but perhaps one of the more nuanced ones is the communication breakdown. I've been told a number of times "I call, I leave messages, and he doesn't return my phone calls. My own son – won't even call his father back." Similiar situations arise in business – "If he wanted to keep us as a customer, he would pick up the phone and call once in a while." This can be heartbreaking, or offensive – but it shouldn't be. You see, it's not talking to you on the phone that we hate – it's talking on the phone in general.
How can this be? Indeed, the phone was a revolutionary transformation of communication, for both personal and business uses. If you think the migration from email to Twitter or Facebook transformed the speed and frequency of interaction, imagine the migration from snail-mail and telegraphs to the telephone. And you say OUR generation proliferated instant gratification? ² Nonetheless, the majority of us can't stand the phone – especially not for business matters.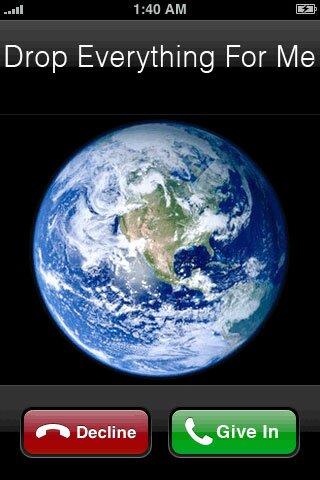 So why do we hate the phone? Well, it's a matter of convenience. You see, when you engage someone in a phone conversation, it's perhaps the most selfish means possible. Chances are, it's not a scheduled phone call – I personally don't mind those nearly as much, because expectations have been set and schedules cleared. No, it's probably a random phone call, which means you expect the recipient to drop everything and pick up the phone, simply because you have time to talk now. You wouldn't step into my office, plunk down, and say "give me 20 minutes of your undivided attention"… Would you? Of course, if it's an urgent matter, they will have time to talk, too. And please understand, their hesitance to speak to you is probably not a reflection of how they perceive or value you (indeed, I am averse to sitting on the phone with family and friends, too). But truthfully, well, you are probably interrupting something. People just don't sit in an office waiting for phone calls like they used to. We're busier than ever – all of us – and we embrace unique workflows. Each of us is different, with different peak hours. I am most productive in the afternoon – but you may be most productive in the morning. If we're going to talk on the phone, one of us will have to compromise or communicate outside of our peak performance window.
Perhaps more importantly, you are demanding nearly undivided attention. Of course, it's important that people offer this kind of respect to one another – but typically, if you are going to command it, you should have the courtesy to choose a time that works for both of us. By contrast, if you need my immediate attention and choose to seek it via instant message, text message, or any other form of written communique, I am able to weave in and out of our conversation without disrespecting you or creating awkward pauses. Thus, if I'm otherwise engaged, I can satisfy your need for my attention and information with minimal sacrifice or lost productivity on my behalf.
Immediate responses come from years of experience and accumulated knowledge. By definition, our age group has neither of these things.
Last, but certainly not least, is that a phone conversation requires immediate response. And to be honest, most of us GenYers aren't good at that. Immediate responses come from years of experience and accumulated knowledge. By definition, our age group has neither of these things. So we research. We Google. We Wikipedia. We read blogs. We plan our responses. Though we are still the product of a dated educational system based on rote memorization and old-world research, we thrive on resourcefulness and the plethora of information we've always had at our fingertips. Phone conversations, by their nature, don't allow ample pause. They put us on the spot.
Of course, there is still tremendous value to hearing someone's voice. Perhaps, then, it is more prudent to invoke an even older means of communication; face-to-face contact. If geography prevents you from breaking bread with a GenYer you work with, then schedule a FaceTime or Skype call. State the expected time requirement, and they will most likely be happy to commit. Furthermore, you'll be able to communicate nonverbally; you should all know by now how important smiling is.
And if you really need immediate access, and can't be bothered to type, tweet, or text, then all hope is not lost. A free new service, called HeyTell,³ offers instant voice-messaging, similar to a walkie-talkie, which can be heard and responded to at the recipient's earliest convenience. See, there is such a thing as a happy medium.
Thank you, as always, for reading, commenting, sharing, and supporting. If you liked this article, please make sure to follow me on Twitter!
JL
¹ For those of you who aren't familiar with the term, a "baby boomer" is someone born in the post-war population spike after WWII. They are the parents of GenYers, and are generally 50-60 years of age now.
² Ok, so we did proliferate it. But we didn't invent it.
³ Credit owed to my friends Alexa and Eric, who persuaded me to look into this service.
65 Responses to "Why GenY Hates Phones"
Leave a Reply
4 Trackbacks
Why Gen Y hates phones | Aiming the lens


[...] http://lucidpathconsulting.com/2011/06/why-geny-hates-phones/ GA_googleAddAttr("AdOpt", "1"); GA_googleAddAttr("Origin", "other"); GA_googleAddAttr("theme_bg", "ffffff"); GA_googleAddAttr("theme_text", "333333"); GA_googleAddAttr("theme_link", "0066cc"); GA_googleAddAttr("theme_border", "f2f7fc"); GA_googleAddAttr("theme_url", "ff4b33"); GA_googleAddAttr("LangId", "1"); GA_googleAddAttr("Autotag", "technology"); GA_googleAddAttr("Tag", "article"); GA_googleAddAttr("Tag", "communication"); GA_googleAddAttr("Tag", "gen-y"); GA_googleAddAttr("Tag", "phones"); GA_googleFillSlot("wpcom_below_post"); This entry was posted in Article and tagged communication, Gen Y, phones. Bookmark the permalink. ← Recorded Future LikeBe the first to like this post. [...]

Why I hate the phone | Two Tasks


[...] Apparently disliking the phone isn't something unique to me. I have always thought of myself as a Gen X-er. Technically (I discovered today) I could fit into the Millenial/Gen Y category. I found this out after reading a post on "Why GenY hates the phone" (read it here). [...]

Don't Call Me Buddy: A Quick Guide to Business Communication - Blog - Lucid Path Consulting


[...] Unless you are text messaging your delivery driver or sending an urgent message to someone who is unavailable any other way, text messages have no place in business. Period. Cell phones are personal devices, and using someone's personal cell phone number for business purposes borders on a violation of that barrier. Furthermore, 160 characters is hardly enough to conduct business, especially when small keyboards are taken into account. Text messaging back and forth is sometimes very bothersome, even for we GenY cell phone addicts. If it's urgent, you can even pick up the phone without warning, though you know how I feel about phones.  [...]

Marketing To Millennials: 5 Things You Need To Know About Gen Y


[...] is kind of the equivalent of showing up at their door unannounced. In this article, "Why Gen Y Hates Phones", the author asks, You wouldn't step into my office, plunk down, and say "give me 20 [...]