KUTOA Health Bars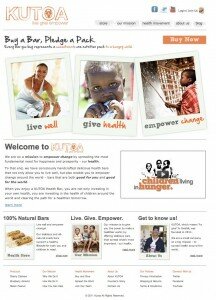 KUTOA is part of a new breed of socially conscious companies. For every delicious KUTOA health bar you purchase, they give a nutrition pack to a hungry child.
When KUTOA sought a partner for their marketing, branding, and web presence, they came directly to Lucid Path. Because we truly believe in their cause, we were especially excited to be involved. Our hope is that with our web expertise and marketing prowess, KUTOA will be able to serve over 250,000 hungry children in 2012.
Lucid Path's contributions to KUTOA's Health Movement include:
Web and marketing copy, such as product descriptions and advertisements
Studio photography and web banner development
Management of a cohesive brand identity, coordinated throughout marketing efforts
Development of professional slogans and tag lines, such as "Buy a Bar, Pledge a Pack," "100% Daily Value of Compassion," and
eCommerce consultation and Magento implementation
Project management and coordination between graphics designers, web developers, and logistics partners
Upcoming viral marketing campaigns (To Be Unveiled in 2012)
As a member of KUTOA's board of directors, Lucid Path's Jonathan Levi continues to guide and direct KUTOA in their all-important mission. In the coming years, you can expect a whole host of socially-responsible and environmentally friendly products from KUTOA.