4 Powerful Life & Business Lessons from EO Alchemy
When I attended EO Alchemy this last weekend, I expected to come away with a great deal of business philosophy and plug-and-play operational strategies to apply to my own life. After all, Alchemy is the regional "TED" style event hosted by the Entrepreneurs' Organization, the worlds most influential group of leading entrepreneurs. What I did not expect, however, was to have my worldview and perspective so deeply and dramatically disrupted.
As the conference progressed with its litany of impressive speakers (Biz Stone, Magic Johnson, Simon Sinek, and more), I was stunned by the tremendous continuity and flow between the ideas of each speaker. What Biz Stone set up, Magic Johnson demonstrated, and John Paul Dejoria (of Paul Mitchell and Patrón Tequila) drove home.
Needless to say, the compassionate words of wisdom shared by these tremendous business visionaries has had a profound effect on me. Over 48 hours later, I am still in a state of contemplation, trying to synthesize what their messages and calls to action will mean to me, and how they will affect my daily life.
In an effort to digest these words of wisdom, I submit to you some of the most powerful life and business lessons I took away from EO Alchemy.
1) Kindness and Giving Pay Dividends, with Compounding Interest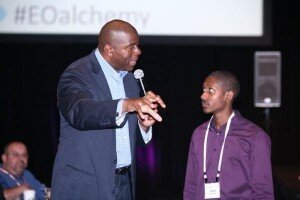 When Biz Stone made this statement on Thursday afternoon, some of us were unsure how it was possible. Biz proposed that we should not wait until we are wealthy or famous to give back; that charity mimicked investment in it's ability to make a lot from a little. Exactly 24 hours later, however, when Magic Johnson took the stage, we saw the proof.
At the end of Magic's charismatic and inspirational lecture, a young man named Justin, whom I met last week at the Global Student Entrepreneur Awards, stood up. He merely wanted to thank Mr. Johnson; he had grown up homeless, and was grateful for Magic Johnson's own Boys and Girls Club of America, where he was able to find a safe place to go in desperate times. Today, he is a 19-year-old business owner and a dedicated student. Magic Johnson was his hero.
The power was not lost on the Magic Man, who offered his phone number to Justin in front of 400 people. "I'm going to be your mentor," he declared. Here was a man who has been consistently investing in urban development for two decades, and yet some of his most powerful impact has been the compounded interest of his charity work nearly twenty years ago.
Einstein was once asked "What is the most powerful force in the universe?" Upon a few moments of quiet contemplation, he merely replied "Compound Interest."
Sitting in that lecture hall, bearing witness to how Justin's life has been permanently changed by one kind act twenty years ago, nobody would doubt it.
2) When you change the way you see things, the things you see change
Many of you may have never heard of Michael Caito, but if you are in the Entrepreneurs' Organization, you probably count him among your heroes. Caito is the visionary entrepreneur  behind Restaurants on the Run, who, as Global Chairman in 2010, expanded EO to the multinational powerhouse it is today. He traveled the world and reached into the most remote locales imaginable to fish out and empower local entrepreneurs.
Caito told an interesting story during his lecture. The story told of a man and a woman living in a beautiful house with a stunning view of the valley down below. Every morning, they would come down stairs, and over breakfast in front of a wall of windows, notice a woman down in the valley hanging her laundry on a clothes line. "It's such a shame," the wife remarked, "she just washed those clothes and they remain brown and spotted. I should really teach her how it's done." For days this went on, until one day, the clothes on the line were clean and white. "Did you go down and have a talk with her?" asked the wife. "No, I went out and washed the windows," replied her husband.
The take-home is that when we change the way we see the world, the world we see changes. It's a blissfully simple statement, and yet a powerful one.
The cost of leadership is self interest. Officers eat last

Simon Sinek
When Simon Sinek told his moving story of being trapped in Afghanistan during a battle, his conclusion was much the same. When he changed the purpose of his visit from lecturing to serving in any way he could, his outlook permanently changed. His anger faded. He no longer cared about the unsafe conditions, the blistering heat, or the inconvenience to his schedule.
This theme, of viewing the world through a lens of gratitude, service, and kindness, was present in the words of many of the speakers, including Warren Rustand, Barrett Ersek, and Jason Nazar. Each of these speakers demonstrated the merits of shifting the way we think towards gratitude and appreciation for others.
3) Politicians aren't changing the world; entrepreneurs are
There were a few powerful videos played throughout the course of the event, which I've placed throughout this post. These videos, alongside the inspirational words of entrepreneur Cameron Herold, drove home the point that it is entrepreneurs who change the world. Naturally, Steve Jobs, Thomas Edison, and Blake Mycoskie came up more than a few times.
Furthermore, I don't think anyone in the room could tell you what politician Gray Davis had to share; he said a whole lot, without saying much of anything. Typical.
4) Doing good is good business – really good business
Magic Johnson, who for decades has outperformed the highest end markets with his own work in urban and minority markets, was pretty convincing. He told us how his movie theaters sold more per capita than those in the wealthiest markets in america. He told us how his three Starbucks, begrudgingly granted by CEO Howard Schultz, soon outperformed even the flagship stores in per capita sales. All of this because he knew his customer, and was willing to invest in the communities nobody else believed in. Doing the right thing can be both powerful and profitable.
From there, we heard from John Paul Dejoria, who has built both his businesses (Paul Mitchell and Patrón) to be environmentally and socially friendly. His message was this: do the women and children collecting glass bottles to sell back to Patrón buy $50 bottles of Tequila? No. But they might one day. Do the factory workers who get paid living wages buy Patrón? No. But they might one day. The list went on and on, until Dejoria had painted a picture of the thousands of lives his boutique Tequila distillery had touched. The message was clear; he is making millions by doing the right thing, time and time again. It reminded us of a statement Sinek made in passing: "Don't say that you care about your customers, or your employees. Say that you care about people."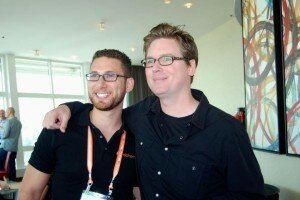 So, for fear of running especially long with this blog post (I could write an entire book on the subject), that is where I am. I am not sure how to process all the incredible lectures, workshops, and intimate conversations I experienced during Alchemy. There were very few moments where I was not challenged intellectually and emotionally to define what it is I believe in and how it is I will act on those beliefs.
I hope that when the videos of each lecture are made public (under the same Creative Commons spirit that TED lectures are disseminated), you will watch them with the same fervor as the audience did. There is quite a lot of value there.
For those of you who made this transformative experience possible (Such as Reza Bavar, Amir Tehrani, Kayvan Mottahedeh, John Coman, Eric Gangloff, and of course our prestigious speakers), I thank you from the bottom of my heart. I, like Justin, have experienced a watershed moment by attending Alchemy, and I am forever indebted to you all.
JL