Magento Sales Rep Commission Manager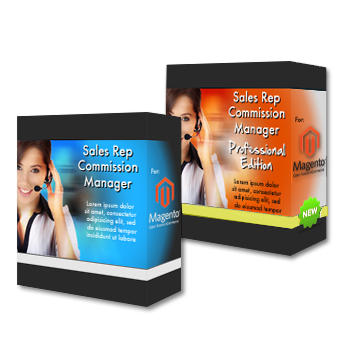 Are your sales representatives meeting their quotas? Are their sales numbers increasing week over week, decreasing, or staying flat? Did that incentive you gave Julianne last week result in higher sales from her this week?
If you are a small business owner operating a Magento Web Store, these are questions you have no doubt had. Unfortunately, they have probably gone unanswered, unless you are manually monitoring every single sale.
Just wanted to let you know that this module is going to save of a heap of time. The extension and the guide are exceptional. Great work!

-Scot S.,The Arrival Store
Order Now
Trusted By These Fine Retailers:

Feature

Basic

Pro

Sales Reporting for Any Specified Time Period
View Exact Orders for Each Sales Rep
View Employee Performance Changes Over Time
Automatically Credit Back-End (Manual) Orders to the Appropriate Representative
Customizeable Checkout Messages
Specify Which Employees Display in the Front End Selector
Enable or Disable Front Page Representative Selection
Retroactively Change the Sales Rep on an Order (Admins Only)
Customizeable and Automated Email Reporting to Employees & Admins
Establish and Track Actual Commission Earnings With an All-New Report
Customize Commission Rates for Each Employee
Advanced Administrator Roles and Permissions
Track Commission Earnings As Paid, Unpaid, or Ineligible
See Historical Data on Commission Payouts, Prevent Mistakes
Show Commission Earnings & Status In Each Order
Limit Commission Information Visible to Employees (Optional)
Show Sales Rep, Commission, and/or Commission Earnings in the order grid (Optional)
Input orders for any employee using a streamlined back-end rep selector (Optional)
49.99
149.99

Order Now
Click below for video demonstrations. If you have time, we suggest watching both, as they compliment one another.
 
 

Basic Edition

Covers installation and in-depth use for Basic features.

Pro Edition

Highlights only the key differences between Basic & Pro.
Many customers are interested in our software module for unique or industry-specific purposes. Others have unusual challenges, such as hundreds of sales reps or region-specific selection of sales reps.
Because of this, we offer full-fledged customization services. We are happy to consider any request, small or large, to tailor our software to your individual needs.
We have successfully implemented a number of customizations for our clients, including but not limited to:
Sales Rep selection using an AJAX-powered autocomplete search bar
Division of Sales Rep lists into Regions, Zip Codes, and States
Specification of per-product commission rates, as opposed to per-representative
Alteration of reporting requirements and visual displays

And More!
To receive an affordable quote for your one-off customization, please Contact Us.
Samples: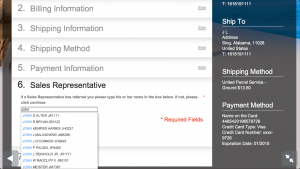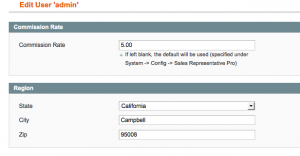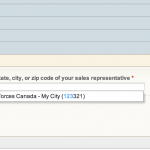 Tested With:
Basic: Community Edition 1.4-1.7
Pro: Community Edition 1.5-1.7
Now compatible with Magento Enterprise! Custom Installation Required.
Please Contact Us for a quote on any custom work you wish to incorporate.
Manual installation may be required for 1.4.1.
1. This is an agreement between Licensor and Licensee, who is being licensed to use the named Software.
2. Licensee acknowledges that this is only a limited nonexclusive license. Licensor is and remains the owner of all titles, rights, and interests in the Software.
3. This License permits Licensee to install the Software one (1) Magento web store per purchase. Licensee will not duplicate, reproduce, alter, or resell software.
4. This software is provided as-is with no warranty or guarantee whatsoever.
5. In the event of a defect or malfunction of the software, refunds or exchanges will be provided at the sole discretion of the licensor. Licensor reserves the right to refuse a refund, and maintains the policy that "all sales are final."
6. LICENSOR IS NOT LIABLE TO LICENSEE FOR ANY DAMAGES, INCLUDING COMPENSATORY, SPECIAL, INCIDENTAL, EXEMPLARY, PUNITIVE, OR CONSEQUENTIAL DAMAGES, CONNECTED WITH OR RESULTING FROM THIS LICENSE AGREEMENT OR LICENSEE'S USE OF THIS SOFTWARE.
7. Licensee agrees to defend and indemnify Licensor and hold Licensor harmless from all claims, losses, damages, complaints, or expenses connected with or resulting from Licensee's business operations.
8. Licensor has the right to terminate this License Agreement and Licensee's right to use this Software upon any material breach by Licensee.
9. Licensee agrees to return to Licensor or to destroy all copies of the Software upon termination of the License.
10. This License Agreement is the entire and exclusive agreement between Licensor and Licensee regarding this Software. This License Agreement replaces and supersedes all prior negotiations, dealings, and agreements between Licensor and Licensee regarding this Software.
11. This License Agreement is governed by the laws of California, applicable to California contracts.
12. This License Agreement is valid without Licensor's signature. It becomes effective upon the download of the Software.
Simple and quick installation. Easy to use and configure. Quick response to support questions. What more can you want?!

Hans D., WebsiteTemplatePros
Our easy-to-use module empowers you to:
Track sales by day, week, month, or year
Tabulate and compile commissions earnings

(Pro)

Keep track of which commissions have been paid out

(Pro)

See sales  for any specified time period
View an employee's change in performance for any time period
See the exact sales figures – and their corresponding order numbers – for every employee, across any time period
Track sales rep for orders that come in through your front page
Ensure that orders put in manually through your admin panel are also credited to the appropriate representative
Create fun and motivational sales competitions within your own company
Automatically receive email reports for you and your employees 

(Pro)

Modify permissions to see who can and cannot view commission information

(Pro)

View representative and commission info at-a-glance from a modified order grid

(Pro)

Enable or Disable front page rep selection
Input orders for other reps using an optional back-end selector

(Pro)

Admins can retroactively change the sales rep on the view order screen
How Does It Work?
It's simple. Our Magento Sales Rep Commission Module adds a configurable drop-down menu to your site's one-page-checkout. You specify the message, for example "Which Representative Helped You Today?" as well as the options. You can leave employees out, or add extra names if you want your organization to seem larger than it is.
Next, this information, along with information for manually submitted orders (phone orders, for example) is compiled, and easily accessed through the "Reports" heading in your admin panel. If you have the "Pro" version, you can even specify custom commission rates, and use the added reporting functionality to manage and keep track of which commissions have been paid out, and which ones have not.
Everything works as if it were an out-of-the-box Magento feature. The interfaces look the same, the code follows accepted Magento programming practices, and it generates your reports lightning fast.
Purchase today and see how Lucid Path's Sales Rep Commission Manager puts you back in control of your team.
Installation is automated through Magento Connect – Simply go to http://yoursite.com/downloader and upload the downloaded files where it says "Direct package file upload." Installation will be completed on the server automatically. For modified stores, professional installation available.
All sales are final
Lucid Path cannot guarantee compatibility with third party modules. In the event of a conflict, we can repair your installation at a rate of $100/hour